SmartHealth is Washington's fun, secure, easy-to-use website that supports you on your journey toward living well. Add SmartHealth's online features to your worksite wellness program by using our resources below.
SmartHealth Week is June 4-10. Find more details and resources under Events.
On this page
Why SmartHealth?
Here are three key reasons why SmartHealth will help you build and grow a sustainable wellness program:
Easy access to useful data.
Engage staff anytime, anywhere with the website or app.
Offer incentives to your staff even if you do not have a budget.
To improve how our team supports you, we listened to and used your valuable input during the Washington Wellness Key Informant Interviews (Fall 2017). 
Governor's support
Learn more about Governor Jay Inslee's support for SmartHealth:
Get started
To make sure your staff has access to SmartHealth at work, give your IT or web team SmartHealth web access.
Then contact us so your wellness program can get access to these key SmartHealth resources:
SmartHealth Data Dashboard
Easy way to track and measure your organization's SmartHealth participation, popular activities, and more. Only for organizations with 50 or more PEBB eligible subscribers.
SmartHealth Wellness Coordinator Activity Tile
Connect with other wellness coordinators we work with on an exclusive SmartHealth activity tile. If you are not PEBB-insured, this will get you access to SmartHealth.
SmartHealth Well-being Assessment (WBA) report for organizations
Learn more about the WBA reports.
Financial incentives
Go to PEBB SmartHealth Wellness for details such as who is eligible, deadlines, or how to qualify.
For details on your organization's annual limit for wellness incentives, see PEBB Policy 91-3.
Events
Save the dates for these SmartHealth events. Find promotional material closer to each event.
SmartHealth WBA Week
February 26 to March 4, 2018.
Encourage staff to celebrate their well-being by completing the Well-being Assessment during this week to earn a $25 Amazon.com gift card.
SmartHealth Week - Acts of Kindness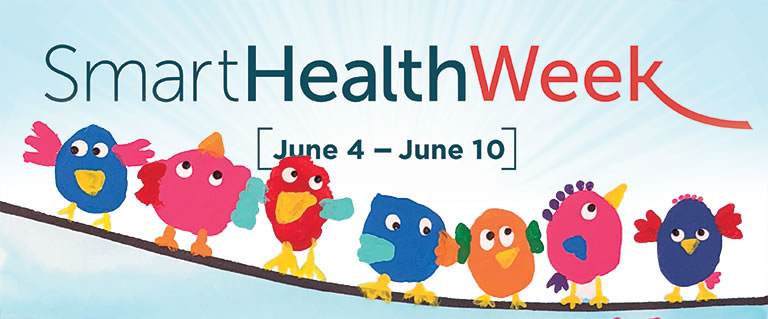 June 4 to 10, 2018.
A week-long celebration of SmartHealth to help us all be our best. During SmartHealth Week, employees from across Washington State will come together to build community connections by performing Acts of Kindness. 
Resources to plan your successful SmartHealth Week are below:
Governor Walks for SmartHealth
July 2018.
A fun walking event led by Governor Jay Inslee. For a summary of the 2017 event, see Governor's walk boosts SmartHealth engagement.
Leader Walks for SmartHealth
August 2018.
Plan a walking event with your leadership team to highlight wellness at your worksite.
Promote
Here are the key ways to promote SmartHealth. We listed these in order starting with the easiest.
Flyers
Video
Engage staff with the SmartHealth How-to Video (features Governor Jay Inslee).
Stories
Engage staff by sharing stories from other SmartHealth users.
Turnkey toolkit
Quickly promote SmartHealth using a turnkey toolkit. Here is how:
Choose a toolkit activity.
Choose when you will promote the activity.
Promote by using the flyer and message.

Flyer: Ready to use as is. To add details such as a logo or dates, use the white space at the bottom.
Message: Ready to use as is or edit to make it work for you.
January to March 2018 toolkit
April to June 2018 toolkit
Activity calendar
Use the content SmartHealth already offers to promote a SmartHealth activity. Here is how:
See the SmartHealth Activity Calendar.
Choose an activity you want to promote.
Choose when you will promote the activity.

Tip: Check when the activity is live on SmartHealth. Some stay for the whole year, others less.

Use the activity content to create promotional material.

Tip: Save time by editing a turnkey toolkit flyer or message with the activity content.

Promote.
Health observances
SmartHealth features a few health observances you can promote. Here is how:
Choose a health observance activity.
Use the activity content to create promotional material.

Tip: Save time by editing a turnkey toolkit flyer or message with the health observance content.

Promote.
Team activities
A fun and social SmartHealth feature designed to bring colleagues together. See SmartHealth Team Activities for a list of planned team activities your organization can promote.
Use these resources to learn more about team activities:
Custom activity examples
See SmartHealth Custom Activity Examples for a list of popular SmartHealth custom activities created by wellness coordinators. Instead of starting from scratch, use these to help create your next custom activity.
Custom activity request
Complete the SmartHealth Custom Activity Request Form to feature your most popular wellness campaign on SmartHealth.
Presentation
Tell your staff why SmartHealth matters and how it works by using our SmartHealth presentation.
If you need help offering a presentation, engaging your leaders, or explaining the business case for SmartHealth or wellness, contact us.
Frequently asked questions (FAQs)
See SmartHealth FAQs.
Contact
For help with these resources
Email: wawellness@hca.wa.gov
Phone: 360-725-1700
For help with SmartHealth's website
Email: support@limeade.com
Phone: 1-855-750-8866 (Monday through Friday, 7 a.m. to 7 p.m. Pacific Time)