Virtual benefits fair (PEBB)
A virtual benefits fair is a way to learn about your benefit options through an online experience — and it's available anytime, day or night.
Visit and explore to learn more about all the benefits available. You will find links to videos, webinars, downloadable content, provider searches, and other information to help you choose the right benefits for you and your dependents. Use your computer, tablet, or smartphone to explore at your own pace. 
Get started by learning about your benefits
Other partner benefits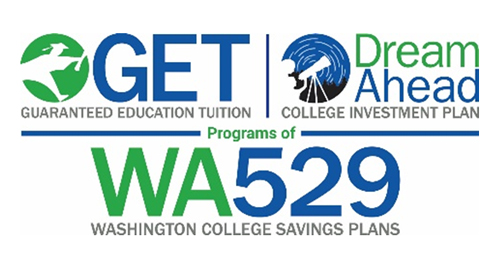 About Washington 529 Plans
These plans are designed to help families save for a variety of education expenses. With tax benefits, flexible contribution options including payroll deduction, automatic bank withdrawal or bill pay plus nationwide choice of schools and career training programs, it's easy to start saving today. 
WA529 Plans are voluntary savings plans. Employees and their families can choose to open accounts.

All Washington State agencies and  many school districts, city and county governments provide a payroll deduction option to employees. 
GET Program
The GET Program is Washington's 529 prepaid college tuition plan that helps families save for future education expenses. The state guarantees (RCW 28B.95) the value of a GET account will keep pace with the tuition cost of the highest priced Washington public university. GET account values are measured in "units," where 100 units equals the cost of one year of resident, undergraduate tuition and state-mandated fees at Washington's highest priced public university.  Enrollment period is November 1 through May 31, each year. See the GET Program details guide.
DreamAhead College Investment Plan
The DreamAhead College Investment Plan is Washington's traditional 529 savings plan that also helps families save for future education expenses. With DreamAhead, account owners have multiple investment options with varying degrees of customization and risk. The value of a DreamAhead account is determined by investment performance which may fluctuate. DreamAhead has year-round enrollment. See the DreamAhead Program details guide.
Students can use their funds for a variety of qualified education expenses attend colleges, universities, trade schools and registered apprenticeship programs in the US and some schools abroad.
Webinars
Want to know more about the 529 Plan? Attend a webinar. New dates/times and registration information is updated monthly.
More information
Voluntary group auto and home insurance coverage is available to all PEBB members through Liberty Mutual Insurance Company.
PEBB members may receive a discount of up to 12 percent off Liberty Mutual's auto insurance rates and up to 5 percent off Liberty Mutual's home insurance rates. 
Learn more about what Liberty Mutual offers for employees, retirees, and continuation coverage subscribers. 
Note: Liberty Mutual does not guarantee the lowest rate to all PEBB members; rates are based on underwriting for each individual, and not all applicants may qualify. Discounts and savings are available where state laws and regulations allow and may vary by state.
Already a Liberty Mutual policyholder?
If you already have a policy with Liberty Mutual and would like to save with Group Savings Plus (the PEBB member discount), just call one of the local offices to find out how they can convert your policy at your next renewal. Mention that you are a State of Washington PEBB member (client #8246).