Office of Medicaid Eligibility and Policy leads the effort in making access to Apple Health simple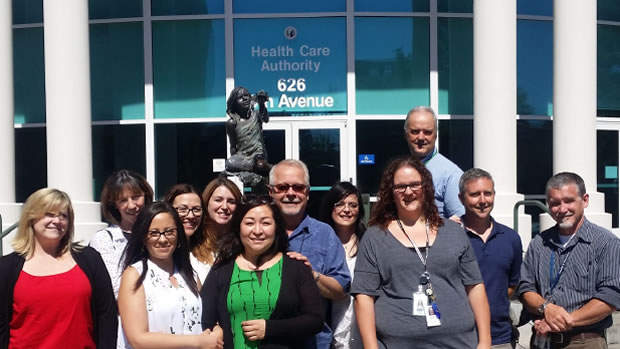 Health Care Authority's (HCA) Office of Medicaid Eligibility and Policy (OMEP) leads the effort to make access to Washington Apple Health (Medicaid) a simplified and streamlined process for clients.
Behind the scenes, OMEP does a lot to make this happen. OMEP was responsible for implementing the Affordable Care Act in 2010, which expanded Medicaid for single adults, children and families. Rule development, systems development, policy writing, training, and outreach are some of the various and complex work they do. OMEP also ensures foster care children have Apple Health coverage.
Amy Dobbins, section manager for OMEP, says the teamwork and spirit behind the work makes great things happen.
"These guys make sure that eligibility is accurate and all these rules are correct for roughly 2 million people. It's a huge responsibility. Everyone is committed and excited about their work," said Dobbins.
Recently OMEP collaborated with the HCA ProviderOne Eligibility team in implementing Medicaid suspension, which was legislation from 2016 that required HCA to suspend rather than terminate coverage for individuals going into and coming out of the justice system.
In the past what Washington has done, and what most states have done, is terminate  health care coverage (Apple Health) at the time of incarceration and transfer care to the facility they are serving time in. When they get out, it often can take time for coverage to be reinstated, putting them at risk for missing critical doctor's appointments, medications and therapy. Often these justice-involved individuals have co-occurring issues, like mental health and substance use disorder, which may require immediate care.
The goal is to get Apple Health clients reconnected as soon as possible to get the care they need to be successful. There was a lot of improvement to facilitating this care when the Affordable Care Act (ACA) was put into place. Prior to the ACA, single adults without families had a hard time getting health care from Apple Health, if they could get health care at all, and put them at risk for re-offending just to get the care they needed.
"With Medicaid suspension, we've heard so much praise from advocates and stakeholders, and the people who assist individuals coming out of the justice system. They don't have to worry about struggling to find health care for these individuals anymore."
Somebody said they had a client tell them, "I'm so glad I don't have to go back to jail to get my health care." It has had a huge impact on peoples' lives.
Dobbins' team focuses on helping clients better navigate the systems to apply for and renew Apple Health coverage. In 2018, they'll be making it easier to understand the income eligibility questions on wahealthplanfinder.org, the biggest change since the site went live in 2013. They continue to collaborate with advocates and stakeholders to improve access to health care to those who need it most.