Military experiences shape personal and professional values
The Washington Health Care Authority (HCA) strives to recruit and retain military veterans, who receive valuable job training in the military that helps them develop into team players and leaders. In 2013, Governor Jay Inslee signed an executive order promoting the hiring of veterans.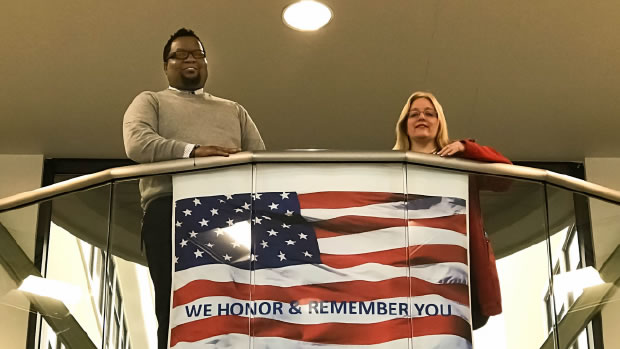 Mareco Smith and Denise Christiansen
Army experience provides valuable foundation for Mareco Smith to build upon
Born and raised in Memphis, Mareco was a young athlete who had aspirations and life goals that exceeded hoop dreams and goal lines. Coming from a lineage of proud soldiers, Mareco wanted to wear the uniform and share the great experience of being a soldier for the United States Army.
In 1989, fresh out of high school, Mareco was en route in a life-shaping journey that would mold him into a soldier and leader. 
His athletic training had prepared him for the physical and mental challenges that were ahead: He was used to structure, discipline, and team work. During his military career, Mareco deployed six times, serving in Operation Desert Shield, Storm Operation, Iraqi Freedom, and Deliberate Force.
When it was time to transition out of the military, Mareco found the experience to be stressful at first. He joined the Joint-Base Lewis McChord group, Onward to Opportunity (O2O), which taught him the latest hiring practices and trends.
"The interview skills and resources I acquired from O2O put me at ease," says Mareco. "I began to network with various human resources representatives from state agencies. My military skills translated quite easily as communication, flexibility, leadership, motivation, patience, persuasion, problem solving abilities, and teamwork."
Mareco believes his military experience helped mold him into the person he is today. The Army solidified his personal and professional values of structure, discipline, teamwork, and integrity. These values, Mareco notes, are similar to HCA's values, which include "people first, collaboration, and public service."
Now he helps the residents of Washington obtain and maintain quality health care. Mareco's skills acquired in the military allow him to effectively and successfully work in Medical Eligibility Determination Services (MEDS) as a medical assistance specialist.
"These skills include typing, accounting, finance, writing, mathematics, legal, and other quantifiable skills that were included in the requirements for a job," says Mareco.
Mareco also helps to support veterans who are also currently working at HCA by heading the agency's Veteran Employee Resource Group.
From the Midwest to the Pacific, Denise Christiansen lands at HCA
Raised in Belle Fourche, South Dakota, Denise Christiansen was a young woman with a heart to help people. Just a year out of high school, Denise joined the United States Navy in 1989 as a dental assistant.
Denise chose the Navy because of her love for water.
"It's peaceful," she said. "I feel most at home near water, in my element."
Not only did her time in the Navy provide Denise a beautiful and peaceful landscape, but traveling from coast to coast gave her an idea of where she might like to live with her growing family.
Though her love for water called her out to sea, her passion for family and motherhood called her back to land. After two full years, Denise ended service with one unit, to focus on service with another unit: her family.
"It gave me a great foundation to build on. Especially as a young mother." She now has four beautiful grown children.
Since then, she has continued to work in fields of public service helping others. She has worked as a dental assistant, property manager, and health care administrator. She now works on HCA's Provider Enrollment Services.
"Since my military skills focused on customer service – answering phones, scheduling appointments, maintaining dental charts--I was drawn to service in health care," Denise said. "The Health Care Authority seemed like a good match. I started at HCA in January of 2014 and I am thriving."
Denise continues to support veterans, by serving as co-chair of the agency's Veterans Employee Resource Group.