Celebrating HCA's nurses during National Nurses Week, May 6-12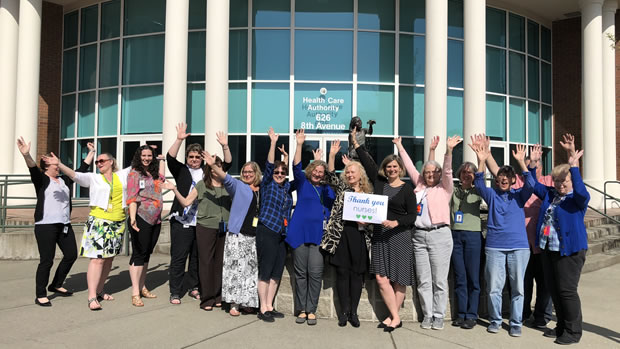 It's difficult to say exactly how many nurses work at the Health Care Authority, but the number is in the dozens. The list includes both those employed in nursing positions, as well as those who just happen to have nursing degrees, such as our new agency Director Sue Birch and Medicaid Director MaryAnne Lindeblad.
One thing that's certain: nurses' unique combination of skills, caring, and education infuse nearly every level of the services HCA provides to ensure a healthier Washington. In honor of National Nurses Week May 6-12, HCA thanks these women and men.
Nurses fulfill a variety of roles, including in leadership, hospital rates, program design and implementation, policy, program integrity, Medicaid compliance review and analytics; and for the Employees and Retirees Benefits, and Clinical Quality and Care Transformation divisions.
Here are some examples of the diverse duties HCA nurses perform:
Clinical Quality and Care Transformation (CQCT)—Nurses ensure that Medicaid clients receive evidence-based, medically necessary care within the laws of the state and CMS. They also implement and manage medical policy and benefit coverage decisions and guidelines, review evidence for new technologies and services and coverage decision determinations, and perform medical review and authorization of services.
Hospital Rates—Nurses review retrospective inpatient hospital claims to identify improper payments, determine if the billed level of care was appropriate and if readmissions qualify for separate payments, and recover funds inappropriately or excessively paid.
Employees and Retirees Benefits (ERB)—Nurses provide clinical consulting support to ERB contract management staff, and develop and review clinical aspects of requests for proposal. They also manage clinical-related complaints, develop and manage clinical policy, and provide clinical support for Accountable Care Program contracts.
Medicaid Program Operations and Integrity (MPOI)—Nurses here design and implement programs in managed care, and they reduce fraud, waste and abuse, and improper payments through retrospective clinical review. They also monitor the clinical compliance of managed care plans and problem-solve clinically complex client situations.
Again, to our nurses: a heartfelt thanks for all you do!