Black History Month celebration was a first at HCA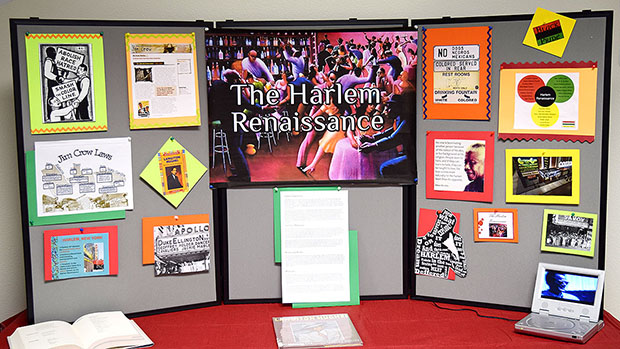 By all accounts, the Health Care Authority's inaugural Black History Month celebration in February was fun, successful, and informative—with more promised in years to come.
"I believe our event helped raise awareness and understanding of black history, something that many people are just not that familiar with," Michael Matheney said. "The more 'differences' that people are exposed to, the more aware and comfortable they will become."
The coordination team wanted to help employees reflect on the countless contributions and great sacrifices of iconic black Americans—and Cherry Street Plaza's first floor main hall housed a variety of exhibits to that end:
A timeline depicting the glacial, sobering progression of civil rights.
A comparison of the social and economic inequities that still exist among ethnic groups today.
The Harlem Renaissance, famous for its vibrant New York arts scene in the 1920s.
Musicians such as gospel powerhouse Aretha Franklin, psychedelic prince of blues Jimi Hendrix, jazz queen Ella Fitzgerald, and legendary producer Quincy Jones.
The rise of the black pioneers of professional sports, such as Olympic gold medalist champion Jesse Owens, tennis player and professional golfer Althea Gibson, and Muhammed Ali.
The team also hoped HCA employees would have fun as they learned! Staff were treated to samples of traditional "soul food," such as grits, collard greens, cornbread, and black-eyed peas with ham hocks, while they grooved to the hip-dipping beats of such funky '70s greats as the P-Funk All-Stars and Grandmaster Flash.
"We wanted to expose staff to soul food within a historical context," said Diversity and Inclusion Manager Juan Alaniz.
"This style of cooking traces back to when African slaves received leftover and unusable cuts of meat from their masters. Then after slavery, they could only afford off-cuts of meat, along with offal [entrails and internal organs]," Juan explained. "Much of the cuisine and ingredients included in soul food were integrated into regional meals, and they have come to make up part of Southern U.S. cooking."
Evaluation and looking ahead
"HCA's Black History Month recognition was a superb 'bottom up meets top down' event. It was a labor of love created by HCA staff and their leaders," said Sanyu Tushabe.
"Everyone did a great job with little time and resources to bring this to HCA," she added.