Family Youth System Partner Round Table (FYSPRT)
Washington State Family Youth System Partner Round Tables (FYSPRTs) provide a forum for families, youth, systems, and communities to strengthen sustainable resources by providing community-based approaches to address the individual behavioral health needs of children, youth, and families.
On this page
FYSPRTs members span across our communities. Wondering who participates?
What do FYSPRTs do?
FYSPRTs serve as an integral part of the Children's Behavioral Health Governance Structure that was adopted within the T.R. et al. v. Strange and Birch (originally Dreyfus and Porter) Settlement Agreement and informs and provides oversight for high-level policy-making, program planning, decision-making, and for the implementation of this agreement, including the implementation of Wraparound with Intensive Services (WISe).
Frequently asked questions (FAQ)
How do FYSPRTs work?
Through respectful partnerships, families, youth, systems, and communities collaborate, influence, and provide leadership to address challenges and barriers by promoting cohesive behavioral health services for children, youth and families in Washington State.
Statewide FYSPRT charter and meeting schedule
Read the statewide FYSPRT charter.
Statewide FYSPRT meetings occur every other month and are open to the public. Representation from the Children and Youth Behavioral Health Work Group (CYBHWG) will be invited to attend each meeting.
Note: The 2023 statewide FYSPRT meeting schedule will be updated if meeting logistics change due to COVID-19 or if meetings are canceled due to weather or other circumstances.
Upcoming meetings
Date
Location
Materials

Thursday, April 27

3 to 5 p.m.

Online
Agenda (4/27/2023)

Thursday, June 22

3 to 5 p.m.

Online
Agenda (6/22/2023)
Past meetings
2023

2022

2021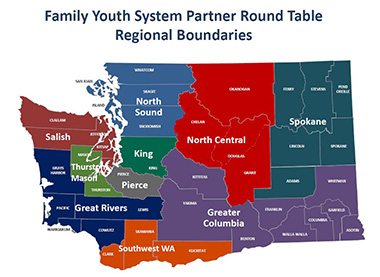 Regional FYSPRTs
The following provides information about regional FYSPRTs.
For regional FYSPRT websites, contact information, meeting dates, and times:
Find your regional FYSPRT

Region

Name

Coordinator

Meeting day and time

Location

Great Rivers

Ray Gregson
833-339-7778

Second Monday
4:30 to 5:30 p.m.

Online**

Greater Columbia

Meredith Piehowski
509-737-2447

Second Thursday
3:30 to 5 p.m.

Online**

King

King County Community Collaborative 

LaTonya Rogers
206-263-8934

Fourth Tuesday 5:30 to 7:30 p.m.

Online**

North Central

Brian Rebar
509-885-6870

Second Monday
5:30 to 7 p.m.

Online**

North Sound

Angela Fraser-Powell
360-416-7013

Second Monday
4 to 6 p.m.

Online**

Pierce

HI-FYVE (Pierce FYSPRT)

Sienna Eckstrom
253-370-7757

Fourth Monday
4 to 5:30 p.m.

Online**

Salish

Sam Agnew
360-337-4664

Last Monday
3 to 5 p.m.

Online**

Southwest WA

Dona Allison
360-605-8329

Third Monday
4 to 6 p.m.

Online**

Spokane

Becky Hammill
509-892-9241

Third Thursday
3 to 4 p.m.

Online**

Thurston Mason
System of Care Partnership
Donna Obermeyer
360-790-7505
Fourth Friday - except November and December
10 a.m. to noon
Online**

**For additional information about regional FYSPRT meetings (date, time, online participation information), please contact the regional FYSPRT coordinator for your region or visit the Regional FYSPRT website.
Infrastructure resources