HCA connects employee ambitions with career goals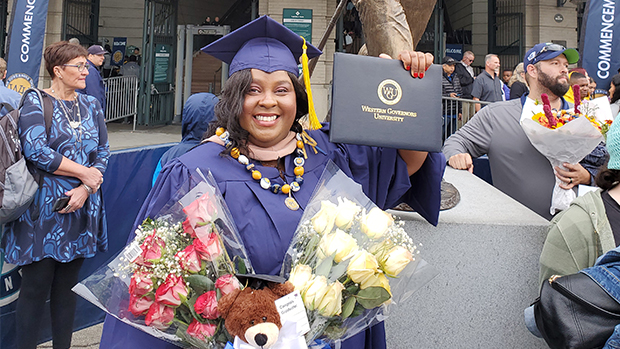 Ericka Campbell graduates with her MBA
Ericka Campbell, MBA shares her experience about going after her academic and career goals:
"When I first began the Business Healthcare Management, Bachelor of Science program at Western Governors University (WGU), I had enough money to pay for one year of tuition. In the beginning, I had to sacrifice my time, money, and sleep, working day in and out to get the work done before my savings was depleted. With WGU being a competency-based online school, I was able to apply on the job training that I had previously acquired to master the material. I was determined because, in my mind, I was going to be in a corner office with a window overlooking a big city as soon as I finished the bachelor's program. Not only did God push me through completing the Bachelors program in under a year, He also had plans for me to earn my MBA and a promising career opportunity with the Health Care Authority (HCA). To add icing on the cake, through the tuition reimbursement program offered at HCA, my master's degree tuition was paid in full. I am still working on the corner office with the window."
Tuition reimbursement is a full or partial reimbursement for tuition you've paid to attend approved courses. Employees who are eligible for HCA's tuition reimbursement program can advance their career through continuing education.