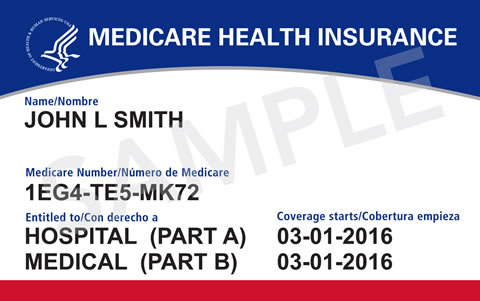 Notice: new Medicare cards
The Centers for Medicare and Medicaid Services (CMS) are issuing new Medicare cards that will replace your Social Security number (SSN) on the card with a new Medicare number unique to you. This change will help prevent identity theft.
Washington State residents will begin receiving their new cards after June 2018. Keep in mind that you may receive your new card earlier or later than your friends or family members—even if you share an address.
Do I need to send in a copy of my new Medicare card?
If you have already sent us a copy of your old Medicare card, you do not need to send a copy of your new one. 
If you are a new Medicare enrollee, you need to provide the PEBB Program with a copy of your card. Write the subscriber's first and last name and the last four digits of the subscriber's SSN on the copy.
How do I learn more?
For more information, read the FAQs about the new Medicare cards. 
On this page
For complete information, read the Medicare section of your certificate of coverage (COC).
Am I a Medicare retiree?
You are considered a Medicare retiree if all of the following apply:
Enrolled in Public Employees Benefits Board (PEBB) retiree coverage; and
Age 65 or older (or younger and eligible for Medicare due to medical disability); and
Enrolled in both Medicare Part A (hospital) and Part B (medical).
Alert! If you are the subscriber and are an employee, see When UMP pays first for coverage when UMP Classic pays before Medicare. This also applies to retired dependents enrolled in UMP Classic under an employee's account.
If you aren't a Medicare retiree as defined above, UMP Classic pays first and Medicare pays second. You or your provider must bill Medicare after UMP pays. See how to submit a claim.
How do the plans work together?
Because Medicare pays first, a few rules are different for Medicare retirees. These rules are explained in full in the Medicare section of the UMP Classic 2018 Certificate of Coverage, including:
How UMP Classic and Medicare work together.
What UMP Classic covers that Medicare doesn't cover.
What your choices for providers are.
How billing works.
How your prescription drug coverage works.
Where to go for more information.
Retirees are required to enroll in Medicare Part A and Part B when they become eligible to enroll in PEBB retiree coverage under UMP Classic. You may not enroll in a Medicare Part D drug plan and be covered by UMP Classic. Your monthly premiums will be lower because Medicare pays part of your medical costs. Be sure to tell Medicare you are enrolled in UMP Classic so that they send us your claims after Medicare processes them.
If you are retired but not yet eligible to enroll in Medicare Part A and Part B, Medicare retiree rules do not apply to you. If you think you might be eligible for Medicare and need information on how to sign up, see the Medicare webpage on the PEBB website.
Note: Medicare accepts claims directly from enrollees only under certain circumstances.
What do I need to do if I'm newly eligible for Medicare?
As you approach age 65, the PEBB Program will send you a personalized letter explaining  what you need to do to keep PEBB health plan coverage and apply for Medicare Part A and Part B. You must enroll in Medicare as soon as you are eligible.
Eligibility, enrollment, and premiums are handled by the PEBB Program.  Call 1-800-200-1004 with questions, or visit the Preparing for retirement or Medicare pages for details.
Have questions?
For questions about eligibility, enrollment, or premiums: Call the PEBB Program at 1-800-200-1004.
For questions about what Medicare covers or your claims: Call Medicare at 1-800-MEDICARE (1-800-633-4227). Get more contact information on the Medicare retirees section of the UMP Contact page.