Family is covered when the unexpected happens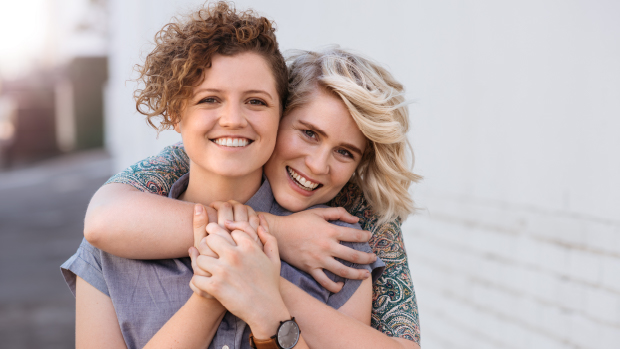 Nicole and her wife were without health insurance when they got married. Young and healthy, they didn't realize how quickly things could change. Nicole's wife started having chronic stomach pains that would leave her ill for days. She had to postpone going to the doctor because they couldn't afford a visit without health insurance.
When open enrollment arrived, Nicole applied for health coverage for her family through Washington Healthplanfinder and enrolled in Washington Apple Health (Medicaid). At the time, they didn't know you can apply for Apple Health coverage year-round. That very night, Nicole took her wife to urgent care, quickly followed by the emergency room (ER). Just a few days later, her wife had emergency surgery to remove her gallbladder.
This wasn't the end of their health scares. Two years later they found themselves back in the ER, not long after finding out her wife was pregnant with twins at their 20-week ultrasound. That week they lost the pregnancy. Nicole shared that what was an emotionally crippling event could have easily turned into a financially crippling event if it hadn't been for Apple Health.
Nicole's wife is now 26 weeks pregnant with another high-risk pregnancy during a time when the COVID-19 pandemic adds another layer of risk. When reflecting on these emergencies Nicole shared, "Through it all, Apple Health and our local hospital made it less scary and complicated so I could concentrate on my wife during one of the scariest times in our marriage."
Nicole and her wife no longer have to worry about how they will afford health care and can go to the doctor without deciding if they can afford it. Nicole wants others to know that you don't have to go without insurance. There is a spectrum of options, regardless of where you fall financially.
"Not having insurance through your workplace can be a very lonely place to be when you're trying to take care of your health needs," Nicole said. "But it doesn't have to be that lonely."
Don't delay care; you may be eligible for free or low-cost Apple Health coverage. Apply year-round at wahealthplanfinder.org.