Screening is the foundation of the screening, brief intervention, and referral to treatments (SBIRT) process. Download screening forms, and learn about screening types and the risk levels associated with screening scores.
On this page
What are the screening types?
There are three types of screenings:
Prescreen
Full screens
Mental health screens
Prescreen
The prescreen questions are asked to patients annually. They are typically asked:
On the new/annual patient form handed out at the front desk.
Annually by the medical assistant or nurse while rooming the patient.
At triage in the emergency department.
Download the prescreen form in English (en) or Spanish (sp).
Full screens
After prescreening positive a patient will receive a full screen. The patient will either be:
Handed the full screens on paper to fill out while waiting for the provider.
Verbally asked the full screens by the medical assistant or nurse.
There are two types of full screen tests:
Alcohol Use Disorders Identification Test (AUDIT): for patients who score prescreen positive for alcohol use.
The Drug Abuse Screening Test (DAST): for patients who score prescreen positive for drug use.
Download the alcohol use full screen (AUDIT) form in English (en) or Spanish (sp).
Download the drug use full screen (DAST 10) form in English (en) or Spanish (sp).
Mental health screens
Because mental health issues and substance use are often co-occurring, WASBIRT-PCI recognizes the importance of screening for depression and anxiety as well.
For all patients who full screen positive on the AUDIT and/or DAST 10:
Download the patient health questionnaire 9-item (PHQ-9) form in English (en) or Spanish (sp).
Download the generalized anxiety disorder 7-item (GAD-7) form in English (en) or Spanish (sp).
What do the AUDIT and DAST 10 scores tell me?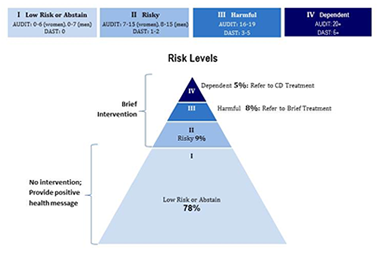 The patient's AUDIT and DAST 10 scores will inform the next steps of the SBIRT process. There are four risk categories: 
Low risk/abstain
Risky
Harmful
Dependent
All risk zones except low risk/abstain require a brief intervention. Approximately 78 percent of all patients will prescreen or full screen negative.
Download the AUDIT and DAST risk levels chart.
How do I begin?
Screening for drugs and alcohol in your clinic or hospital may be a new practice. Begin by normalizing the process. Normalizing may help patients understand why they are being asked about their drug and alcohol use.
Download posters
SBIRT posters are available to be hung in your clinic to help normalize the process.
Use a script
Develop scripts for staff to use to introduce the SBIRT screens. For example:
"To improve the care we provide our patients, we are asking all our patients about their alcohol and drug use at least once a year. Alcohol and drugs can impact your health and we want to make sure we have all the information that will help us in working with you to stay healthy. Would it be alright if I asked you a couple questions?"