Youth leaders take on Olympia for Prevention Policy Day
Thursday, February 6, 2020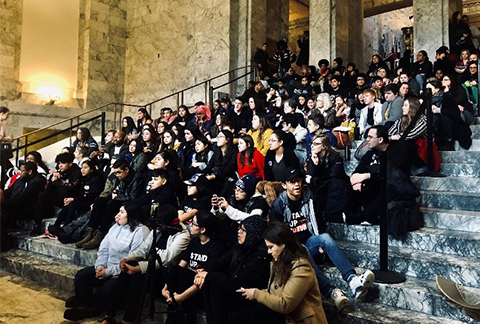 Teen prevention advocates traveled to the capitol for the annual Prevention Policy Day. The Washington Association for Substance Abuse and Violence Prevention (WASAVP) sponsored the January 20 event. This youth-focused advocacy day provides young people with a voice in the legislative and government process. Attendees included members of the Health Care Authority's (HCA) Division of Behavioral Health and Recovery (DBHR) Community Prevention and Wellness Initiative (CPWI), teens, and families from across the state.
The day started with a rally where advocates spoke about prevention goals and celebrated past years' success. After the rally, teens had the opportunity to meet with their local legislators to advocate for prevention policies. The meetings with legislators were previously arranged so that teens had the chance to think through their approach.
Participants were invited to talk with legislators about any issues related to substance use disorder prevention. A common goal from the group was vaping. While the number of teens who smoke cigarettes has decreased, 30 percent of high school students said that they had vaped in the last 30 days. Prevention Policy Day was filled with the excitement of teens, adults, families, and law makers working together to make a difference.
Learn more about HCA's youth prevention efforts on the Athena Forum.