Washington State's bold new approach to eliminating hepatitis C
Wednesday, February 12, 2020
Tackling the hepatitis C virus (HCV) is a major public health issue that requires out-of-the-box thinking. In Washington State, we have set an aggressive goal of eliminating HCV by 2030.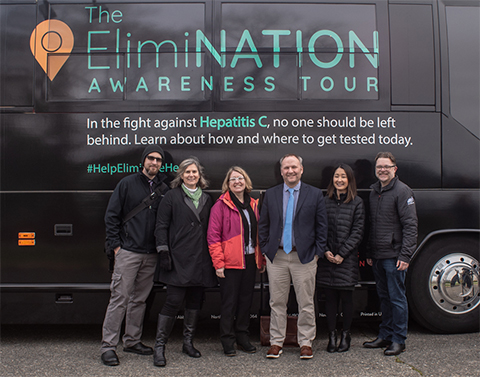 Rising to the challenge of curing approximately 65,000 affected lives requires partnership, innovative purchasing strategies, and nurses in a leadership role. All three ingredients are aligned in Washington as we launch our elimination effort, which we call Hep C Free Washington.
The Hep C Free Washington approach includes:
Entering into a contract with drug manufacturer AbbVie that gives state-purchased health care programs access to a guaranteed net unit price up to a certain treatment threshold, after which we pay a nominal price for an unlimited supply of the antiviral Mavyret.
Removing all prior authorizations for Mavyret to make it easier for providers to prescribe.
Working with partners and stakeholders, including people affected by HCV, local health jurisdictions and providers, as well as sovereign Tribal Nations to:

Find individuals not yet treated
Educate the health care workforce about screening and providing treatment
Address barriers to care such as stigma, lack of urgency to treat among patients and providers, and access to HCV providers
In Washington, we are calling upon nurses to help lead this effort. Nurses have been leaders in abating infectious diseases for centuries, and are among the most trusted professionals. In Washington, we have nurses in leadership positions in state agencies and the Legislature, helping provide that needed voice in policy and clinical conversations. They must be at the forefront for this effort to succeed. We are asking nurses to lead by educating individuals about HCV: how it's contracted, why it's dangerous, and how to get screened and treated.
We also need nurses to help reduce stigma by making HCV a more common part of our conversation. During community events in May 2019 where we asked participants to speak about their experiences living with HCV, we heard again and again about shame and stigma. One participant said, "It was embarrassing and I'm ashamed of what I did to my life and I'm really grateful for being treated (for HCV). I don't feel like I'm worth it."
One of our core values in the Hep C Free Washington effort is upholding the dignity of each person. We believe we must reduce stigma, recognize the worth of affected communities, and ensure whole-person care to eliminate HCV and promote wellness. Nurses are uniquely positioned to provide whole-person care and treat individuals with dignity and compassion.
We know other states are watching Washington closely as we tackle this work. I urge all states to ensure nurses are empowered as leaders in the push to eliminate HCV.
Sue Birch