Welcome to our refreshed website!
Would you like to learn more about how the new site works? Read on to discover what's the same, what's changed, and how you can find what you're looking for.
What's the same? The structure and most of the content.
We still have four main areas of content, although we're renamed a few things to make them easier to quickly understand.
Free or low-cost health care. Find benefits and services available to Washington residents through Apple Health, Washington's Medicaid program. (Formerly "Health care services and supports.")
Employee and retiree benefits. Find benefit and enrollment information for public and school employees or retirees who are members of the Public Employee Benefits Board (PEBB) Program or School Employee Benefits Board (SEBB) Program.
Billers, providers, and partners. Apple Health providers can find authorization and billing information, how to become an Apple Health provider and treat clients, and learn ProviderOne, our authorization and claims system.
About HCA. Explore who we are and how we work. Find information on our programs, how we administer them, and report out on how we're doing.
What's changed? The navigation.
We've replaced the way you get around on the site. Rather than clicking down through layers of content, you'll use the large, expandable menu at the top of the site.
This menu is always available so you don't have to worry about getting stuck.
How does it work?
Click one of the headings above the blue line to see more options. When you click those options, you'll see (almost) all the pages for that section.
Where did the left-hand menus go?
We removed the left-hand menus to widen our pages and create more space for you to see the content.
How do I get to more pages in a section?
If a page has subpages, you'll see Pages in this section when you scroll to the bottom.
Click a link to go to that subpage.

To get back to where you came from, you can either use the breadcrumbs above the page title:

Or the expandable menu at the top of the site.
How do I find what I'm looking for?
Use the expandable menu at the top of the site. If you don't see what you're looking for, try our global search.
Enter your search term in the Search box at the top of the page.

Click the magnifying glass or press the Enter key on your keyboard. The search results will appear.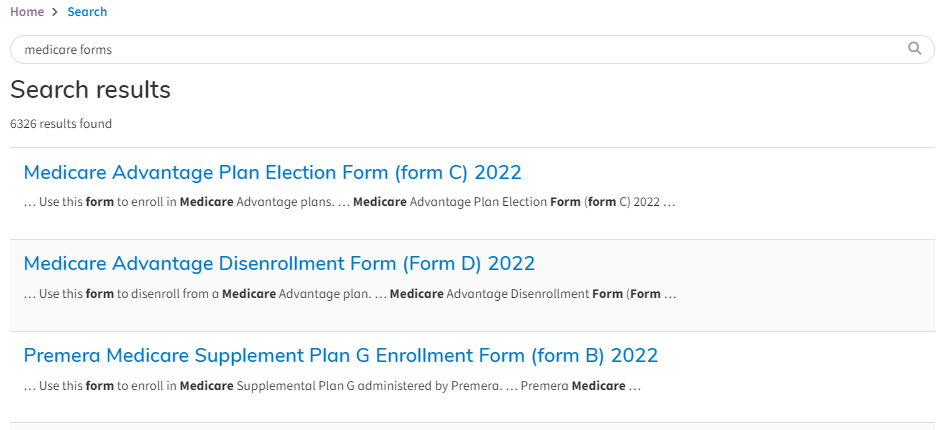 Want to share your thoughts?
We are happy to hear from you through our website feedback survey and will continue to improve the site for you.